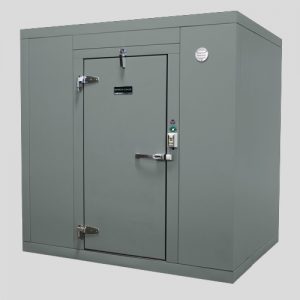 Cold Storage Warehouses – Chances are, you need a place to store all the kegs and cases you've brewed before shipment. Brew Cave® manufactures refrigerated warehouses to accommodate small craft brewers to breweries with national distribution. We provide sliding doors with enough room to comfortably drive a forklift through.
Growler Houses – Growler filling stations are a hot trend in the craft brewing industry. We provide coolers to house the kegs necessary to supply these growler stations.
Small Beer Storage Walk-in Coolers – If you are a home brewer or a microbrewery, we can provide you a walk-in cooler to store all your creations. Shelving is available to organize your stock. These units can be fitted with tap for dispensing right from the walk-in.
Tap Room Coolers – Have every one of your beers on tap in your tasting room with the kegs safely stored in an ice-cold refrigerated environment. Glass doors with reach-in shelving are available for quick access to individual bottles.
The Brew Cave® – The largest kegerator for residential bars can comfortably hold 6 kegs and 30 cases of beer. The Brew Cave® comes standard with a heated glass door to show off your beer selection and a tap to serve your friends and family.